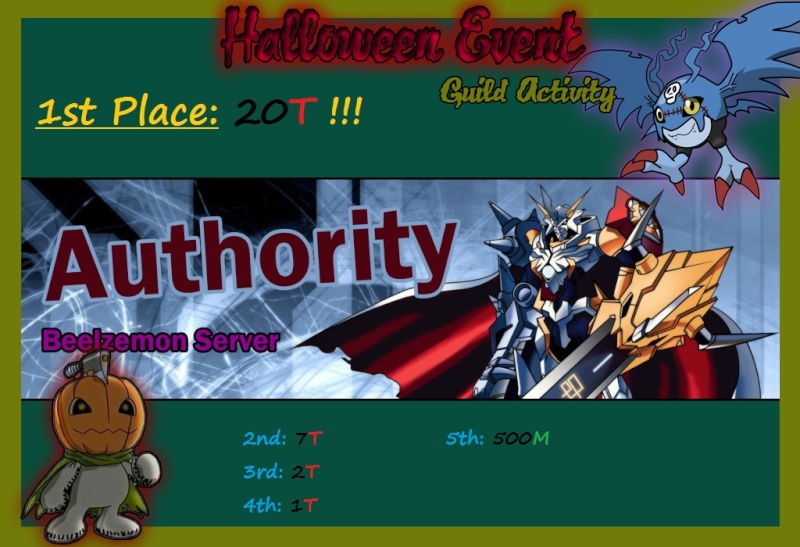 Info:
- This event has the main purpose of leading our guild up on the ranks;
- Everyone starts with 0 activity points so it doesnt matter if you already have alot on the guild panel so far;
- The event starts after the new update maintainance on GDMO servers (22nd October);
- The event ends on 19th of November;
- In order to win the prizes, you need to be one of the tree that can make the most activity points starting from day 22;
- I will screenshot all members activity points by the the time the event starts. This way I will know how many points they had at the begining of the event and how many they increased after every week;
- Everyone in the guild is allowed to participate.
How to get guild activity points?
- Killing digimons (Best method);
- Gaining tamer and digimon levels (2nd best);
- Being online doing nothing (Yes, just by leaving your game open while you sleep can get you around 350 activity points;
- Completing quests (3rd best);
- Running around, selling items, hatching eggs, etc.
Prizes:
1st: 20T
2nd: 7T
3rd: 2T
4th: 1T
5th: 500M
I will display an updated table of the scores so far every week so you guys know how good you are doing.
Have fun!

_________________
Digimon I own
Birth - Gabumon 129%
Faith - Raptordramon 129%
Goujian - Agumon 129%
Gaeshi - Ryudamon 121%
Tiffany - Dracomon (Blue) 129%
LegoMachine - Dracomon (Green) 123%
Cyborg - Deputymon 128%
Chaos - Mechanorimon 128%
Ashardalon - Guilmon 127%
Silk - Wormon 127%
Wyvern - Candlemon 127%
Balerion - DexDorumon 127%
Apollyon - Impmon 127%
Cierzo - Veedramon 126%
Malware - Keramon 122%
EarCombo - Terriermon 123%
Dementia - PawnChessmon Black 126%
Shadowlord - Lucemon 129%
OnDrugs - Myotismon 128%
RaijinNoMai - Qinglongmon 126%
BeastKing - Elecmon 129%
Madness - BlackGatomon 12%
Halloween - Bakemon 122%
BigLier - Palmon 122%
Guardian - Hagurumon 123%
Floppy - Lopmon 127%
NinjaBee - FanBeemon 127%


Join our Facebook group! www.facebook.com/groups/authdmo/
Admin




Mensagens

: 31


DigiPoints

: 2179


Data de inscrição

: 2013-08-25



1st week

_________________
Digimon I own
Birth - Gabumon 129%
Faith - Raptordramon 129%
Goujian - Agumon 129%
Gaeshi - Ryudamon 121%
Tiffany - Dracomon (Blue) 129%
LegoMachine - Dracomon (Green) 123%
Cyborg - Deputymon 128%
Chaos - Mechanorimon 128%
Ashardalon - Guilmon 127%
Silk - Wormon 127%
Wyvern - Candlemon 127%
Balerion - DexDorumon 127%
Apollyon - Impmon 127%
Cierzo - Veedramon 126%
Malware - Keramon 122%
EarCombo - Terriermon 123%
Dementia - PawnChessmon Black 126%
Shadowlord - Lucemon 129%
OnDrugs - Myotismon 128%
RaijinNoMai - Qinglongmon 126%
BeastKing - Elecmon 129%
Madness - BlackGatomon 12%
Halloween - Bakemon 122%
BigLier - Palmon 122%
Guardian - Hagurumon 123%
Floppy - Lopmon 127%
NinjaBee - FanBeemon 127%


Join our Facebook group! www.facebook.com/groups/authdmo/
Admin




Mensagens

: 31


DigiPoints

: 2179


Data de inscrição

: 2013-08-25





Similar topics
---
Permissions in this forum:
You
cannot
reply to topics in this forum